Florida is known for its sunshine, miles and miles of beautiful beaches, citrus groves, theme parks and the occasional severe weather storm – as you'll soon find out in the story below. Do you know what else you can find in Florida?  Great transit services run by exceptional Operators - one of whom is Patricia Henderson. Ms. Henderson is an Operator for Lake County Transit who, just a few weeks ago, did something simple, yet amazing, inspiring this lovely tribute from a mother who doesn't even know her.
I am so grateful for the driver this morning who saw my 12-year-old scared and stuck in that hailstorm on the side of South Street. When he left for school on his bike, it looked like it was going to be a rainy day, but we didn't think for a second that the sky was going to open up and rain down rocks of ice. He has never experienced hail like that so you can imagine how freaked out he was getting caught in it. He was on the phone with me and I was telling him to turn around when we lost the connection. A few minutes later, he calls me back and tells me that the city bus stopped and let him on the bus with his bike to get him out of the hail. As a mother, I cannot thank that driver enough. So many things could have gone wrong. You were my angel this morning and I am forever grateful. Thank you so much!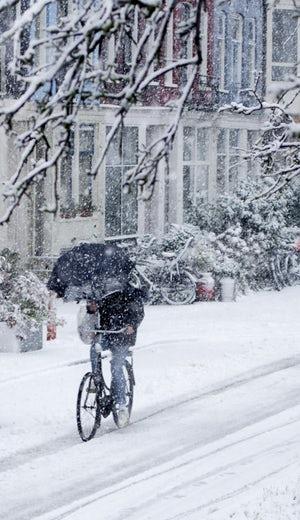 RATP Dev USA: What was the weather like the day you stopped for this boy on the bike?
Patricia Henderson: That morning was kind of gloomy. As I was driving, it got dark really quick and the wind started to blow kind of hard. All of a sudden, I started hearing pop sounds on the bus and I didn't know what it was. Then it was like the sky opened up and let all the hail pummel the bus. The trees started to lean over from the strong winds, leaves were blowing everywhere.
RATP Dev USA: What caused you to stop and let the boy on the bus?
Patricia Henderson.: I had just picked up a customer when the weather started to change, and I saw the young boy ride past me in a hurry. The hail started coming down even harder and I saw the boy on the bike trying to get under a tree. He looked frightened. I couldn't just leave him there, so I safely pulled over for a moment and told him to hurry and get in. I am a mother and I would hope someone would help my child out especially if they are visibly terrified.
RATP Dev USA: Was your bus equipped to handle bikes?
Patricia Henderson.: All of Lake County's fixed route buses can carry two to three bikes on the front of the bus. On that particular day when the weather turned bad quickly, I knew this boy was seeking shelter, so he brought the bike on the bus. With coarse rain pellets coming down fast, the priority was getting the passenger inside safely.  
RATP Dev USA: The boy's mother is so grateful to you for stopping and letting her son ride the bus. How does that make you feel?
Patricia Henderson: I felt good inside, when I heard how thankful she was. As an Operator, being out there on the road every day makes me feel responsible for the safety of my community.
RATP Dev USA: Have you ever done anything like this before?
Patricia Henderson:  A couple of weeks ago, I saw a regular customer at the crosswalk and thought to myself, "Wow, he must have missed the bus." As I was sitting at a traffic light, I noticed that he was not moving as well as he usually does. I kept an eye out for him, as he put his grocery bags on the ground. He started to stumble a bit. My traffic light turned green, just as I saw that he was trying to get to a shopping cart to steady himself as he started to fall. Again, I safely pulled over, addressed my passengers, and swiftly went to his aid. By then, a couple had seen him and tried to help him. I told them that he was a regular on my bus; I will take care of him. He said that he hadn't paced himself given how hot it was outside that day. I was glad that I paid attention and that I was able to get him onboard safely!
RATP Dev USA: You said he was a regular rider – do you have many regular riders?
Patricia Henderson: Many of my customers are regular riders. Some I have known since they were babies! I have even watched some graduate from high school. My elderly customers are very sweet and share a lot of interesting stories about their lives. I have been passenger's 'daughter', 'granddaughter', and often 'mama' - I hear that a lot! I lend a listening ear and give relatable advice about situations when someone is looking for help. I try to help everyone in any way I can.
There is one young man with disabilities who I've known for years. He told me one day that he was travelling to his new job. I assumed that since he was going so far for work, he had learned how to cross the highway safely. Unfortunately, he had not. Before I knew it, he had walked straight into traffic, cars were swerving to miss him. I was able to deboard my bus safely during a stop and make it to him just in time, before he tried to cross another three lanes of traffic. I walked him safely from the median to the sidewalk then explained to him how he could appropriately cross in the future. I truly care about all of my passengers' wellbeing.
RATP Dev USA: What do you hope your riders take away from riding with you?
Patricia Henderson: When I moved here in 2007, I had no vehicle and had no idea that there was even a bus service. My children and I would walk for miles to the grocery store, library, and the park. Once I figured out where the nearest bus stop was at, it was still about a mile away. I could not believe how far everything was. From personal experience, I know that people need to get to work or other life activities, and the bus is the only way for many of them to travel. I hope they know they can always rely on our buses for their transportation needs.
RATP Dev USA: What do you consider a successful day behind the wheel?
Patricia Henderson: When everyone has made it to their destination safely, on time.
Ms. Henderson has been a Lake County Operator for almost 12 years. She drives approximately 150 miles and transports about 200 passengers daily. She says she enjoys her work because she loves meeting different people and she knows how much her patrons appreciate the service. We're lucky to have Operators like you, Patricia! Thank you!
Community
Passenger Priority