The future of innovation lies in the technology and resources that connect passengers and operators to coordinate safe, sustainable, and efficient modes of transit. Introducing Orbyt, RATP Dev's technology and innovation framework.

---
​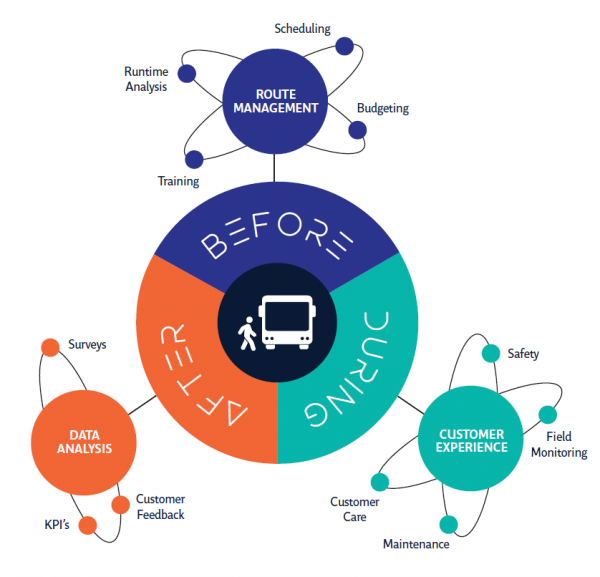 "Innovation can be defined as "the application of better solutions that meet new requirements, and unarticulated needs - a new method or idea." As the demand for integrated mobility solutions increases, so does the public's expectation of transportation providers. Transportation providers need to deliver a comprehensive portfolio of technology, tools, and innovative concepts that impact transit - providing choices for mobility. As our own portfolio, Orbyt, expands and adapts to the industry, it is clear that now more than ever innovation is, and must be, at the foundation of our core services and pillars of success in public transit"
Process
Orbyt is a proactive approach to innovative business development, by partnering and investing in the right start ups, tools, and technology to advance services with industry demand, or even ahead of it.
Orbyt focuses on four key areas that drive the development of an innovative strategy to advance your goals:
Anticipate Industry Disruptions
Take Advantage of New Mobilities
Improve Core Service Offerings
Increase Passenger Satisfaction
Each focus area represents the scope in which we formulate innovative solutions for current or future challenges, to integrate the rider and operator journey as one connected experience. Orbyt links these focus areas to a methodical timeline: before, during, and after the journey. This strategy leverages information gained through relationships and experiences built over the course of 45+ years in the United States alone, in addition to global expertise honed from our global parent company and subsidiaries.
Our team recognizes the increasing availability of constant information, untapped resources, big data sharing, and the expansion of technological capabilities, and is solely dedicated to your improvement through a consultative approach.
Navigate your next challenge with Orbyt.
>> Click Here to Download ORBYT Solution Brief
Learn More

Matt Booterbaugh
Deputy CEO
Contact us